1.310.749.5647
Your top choice for outstanding in-person delivery

Would you like to send a singing telegram from a real singer?
Or, do you have a comedy prank that might run from G-rated and clean to R and slightly soiled?
Perhaps you just want to send someone a "get well" greeting, or a birthday visit from an unforgettable special guest.
Whatever you want, you will get exceptional service...and at a bargain price!
FunnyGirl Telegrams
will deliver your message in a way which is distinctive, original, and from the heart.
About FunnyGirl Telegrams:

I am a singer, actor, and entertainer with over 10 years experience of providing hundreds of singing telegrams to homes, offices, and public venues great and small!
I work solo, or with a trusted group of performers who follow the same rule of giving you the best!
We love what we do, and we love making people happy!
Whether it's wowing someone "American Idol" style, getting goofy and spoofy, or delivering a sincere "apology gram", we all come from the heart.

Singing telegrams are a great way to celebrate and I think that everyone should try it at least once! I love seeing someone's smiling eyes when they realize that friends and family have taken the time to arrange the "surprise" - it's good times all around.
Making Memories Is What I Do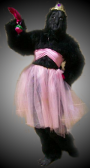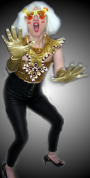 Here are some of MY Standout Memories:
Britney

at the Catholic school
Dancing

Gorilla

at a Santa Monica wedding

Marilyn M.

at a centenarian's Bel-Air birthday (now that was a guy who really knew how to live!)

Lady Gaga

giving hair advice at a Pasadena Sweet Sixteen

Classic tuxedo

with an apology and a dozen roses which led to a couple's tearful re-union in Tustin (that was something - I don't think Dr. Phil could do better)
I had a lot of fun playing

guitar

and singing "On The Road Again" for someone in Beverly Hills about to – guess what – get on the road again!
And I have to admit it was a real pleasure to be the

Queen of England

in Culver City.
Music

And of course...
Music, Music, Music
My Musical Friends are opera singers, violinists, and guitarists
So whatever you have in mind for your special someone... we can deliver...with superior style!
Popular Characters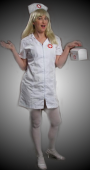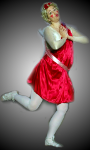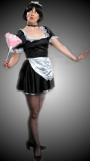 Here are some of my most Popular Characters (partial list – it's always growing). Male Performers and Characters also available.
Barbra
Bag lady
Biker chick
Cheerleader
Classic Tuxedo Singing Telegram
Cop
Cowgirl
Dorothy
French Maid
Gorilla
Hula Girl
Julie Androos
Lady Gaga
Liza
Mary Poppins
Marilyn Munroe
Mona the Mourner
Nerd
Nurse
Pamela Andersun
Paris Hilltun
Princess
Queen of England
Shirley
Teena Turner
Yenta
AND MANY MORE! JUST ASK FOR WHAT YOU WANT - SPECIAL REQUESTS WELCOME